This is just for fun. I am Catholic, and I celebrate Easter. I think it's the most important Holiday in the Christian faith. In no way at all do I intend to ridcule, molest and insult the sanctity of Easter. ALL FUN, folks!
I was aiming for Top Ten Reasons why Easter is scary. It is all inspired by this lovely picture of an Easter Bunny Mascot with an unsuspecting victim, er, child on it's lap.
1. The Easter Bunny is hunting EGGS. Rabbits are HERBIVORES. They don't eat meat or poultry. What the Hell is he going to do with all those eggs? Where did he come from? Where in the Bible did it say there was a Rabbit when Jesus rose from the dead?
2. People go to the Vatican to see Pope Benedict XVI say mass: Don't know about you but Joseph Ratzinger gives me the creeps. He almost looks like Darth Sidious/Senator Palpatine of Star Wars.
3. After Easter Sunday, peple who went on vacation will start coming back home. All the roads will again be filled with all sorts of strange people coming back to the city because toorrow... There's WORK that hasn't been done in a few days.
4. The Philippines celebrates Easter at the crack of dawn, with an early procession called "Salubong," whereas, depicting the Holy Mother's Encounter with the Risen Christ. A black veil is lifted from the Virgin's face by a child dressed like an angel.
How do we do it, people? BY SUSPENDING THE POOR CHILD 20 FEET UP IN THE AIR TO ATTACH A WHITE BALLOON TO THE BLACK VEIL WHILE EVERYBODY SINGS.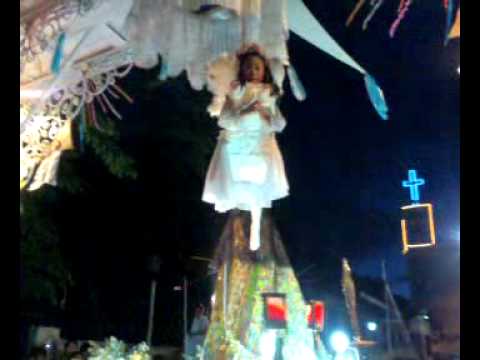 "Mommy, I think I'm Going to pee..."
Talk about Child Welfare!
5. And if thats not scary enough... Christ rose from the dead on the third day from Dying on the Cross. I don't know about you but Dead People Rising from the grave is scary...
But then again... Easter is the celebration of God's Love for us. He rose from the dead because he loves us. Ever had anyone rise from the dead beacuse they loved you? Of course not!